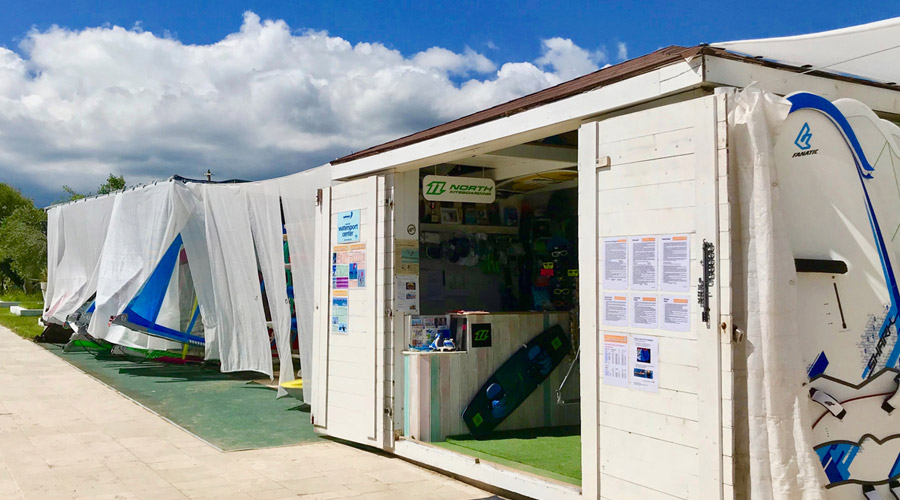 Center 1: Cala Azzurra
Enjoy the difference
Located in the holiday village "Cala Azzurra" we have our own access to the beach, with a large reserved beach area. Due to the flagged area, in front of the school, for guests of the holiday facility and the surf school, you will never have claustrophobia here in the high season.
Spot 1: Cala Azzurra
"From the bed to the board"
At the Center Garganosurf 1 "From bed to board" is no empty promise. With good N-NW thermal you can slide right away from the beach.
The second most frequent wind, the Scirocco, has flat water and perfect conditions for everyone.
We have our own exit. Marked with yellow buoys, it provides a demarcation for all incoming and outgoing sports equipment and vehicles not belonging to the swimming area. For kiters who want to start here, is VDWS Level 4 (height hold) the rule.
Center 1 directly at the spot
"no material dragging anymore!"
The bay is 4 km long and the beach is between 30 and 50m wide
Due to its sickle shape and the mostly oblique onshore wind, the perfect situation for kitesurfers has emerged here.

Attention, our Kitesurf courses take place at Garganosurf 2 "Isola La Chianca". Windsurfing lessons are also held in August in the station "Cala Azzurra".
What we offer you here:
Attention: All kitesurfing courses take place in Center 2 at the holiday facility Isola la Chianca
Accommodation right on the beach
Cala Azzurra
If you book your accommodation in the tourist villages of Cala Azzurra or Isola la Chianca through us, we guarantee you a 5% discount on all our courses. Write us an email we organize the reservation for you. We look forward to welcoming you soon.
Cala Azzurra
Accommodation at the Center 1
open from April 1th to October 18th 2023
Garganosurf, the largest water sports center in southern Italy.
do you have questions?
With our team, we are at your side with action and advice, when it comes to the Gargano or water sports.