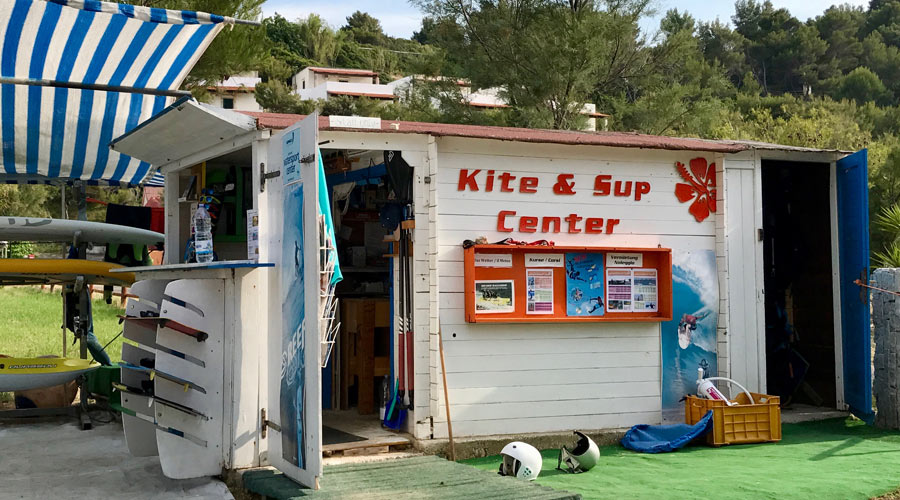 Center 2: Isola La Chianca
Enjoy the difference
Located in the holiday village "Isola la Chianca", we are situated here on a unique small Shale. A promontory surrounds the bay, in addition there is a small offshore island (La Chianca), together they form a kind of lagoon. This is open to the south.
Spot 2: Isola La Chianca
"From the bed to the board"
The prevailing thermal N-NW wind in Gargano makes within and in front of the bay shallow water.
The lagoon is equipped with a standing area of approx. 100x200m. Especially for kitesurf beginners a paradise.

In the beginning, you are driven off with the wind. Then just go down from the board and go back to Luv, and it goes on. This is the prerequisite for a successful course. By the way, no stones or sea urchins disturb the ground contact. 100% sand!
The wind is coming from the other direction? Then we are so well exposed here, as nowhere else in the big bay!!
Center 2 directly at the spot
"no material dragging anymore!"
Our 2nd station is located directly at the practice bay, where our Kitesurf training starts. If you go downwind from the shallow area of the lagoon you will still find a 4km long sandy beach to get on land, from there you can walk up into the lagoon. Or you can visit directly our second center "Cala Azzurra" which is located in the same bay. Can not be safer!
If the wind is slightly lighter in the big bay, it will spread in the middle of the little bay. Whether you need to perfect your freestyle tricks or try your first rides on the board, you have the perfect exercise conditions here.
The bay is reserved for students! So if you can drive, your place is clear out of the bay!
What we offer you here:
Attention: All windsurfing courses take place at Center 1 in Villaggio Cala Azzurra.
Accommodation right on the beach
Isola La Chianca
If you book your accommodation in the tourist villages of Cala Azzurra or Isola la Chianca through us, we guarantee you a 5% discount on all our courses. Write us an email we organize the reservation for you. We look forward to welcoming you soon.
Isola La Chianca
Accommodation at the Center 2
open from April 1th to October 18th 2023
Garganosurf, the largest water sports center in southern Italy.
do you have questions?
With our team, we are at your side with action and advice, when it comes to the Gargano or water sports.