Semi-private courses windsurf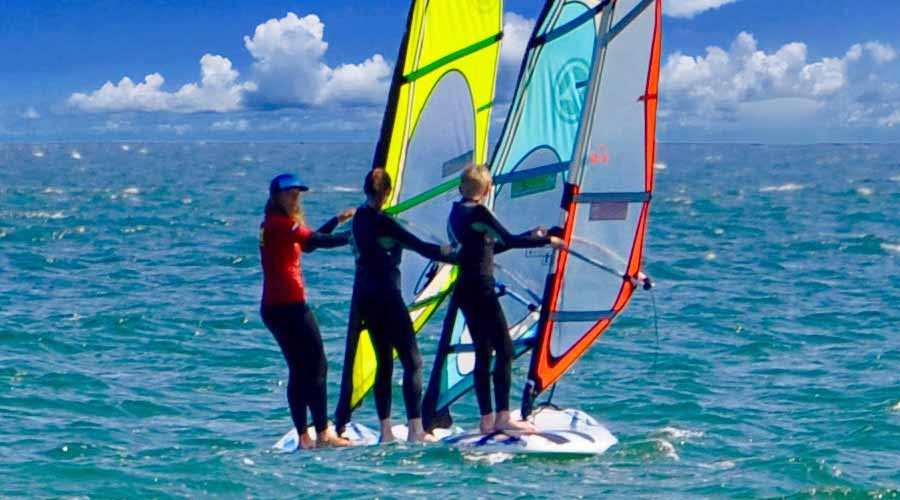 Learn to windsurf in the semi-private course
With a semi-private course you decide to learn with your partner, paired in a parent&child team or simply with a friend. Share a nice experience and learn together on the water. The instructor is there only for you! Flexible course times spare your precious time and the individual care helps to reach your goals faster. This way learning is fun!
Advantages of learning windsurfing in the semi-private course
Flexible course times
Have fun with a friend or family member
Individual care
Fast learning success
Money back guarantee
"You only pay for the hours held!
Money back guarantee at garganosurf"
VDWS license
For an additional fee of € 20.- you can take the exam for the internationally recognized VDWS Windsurfing License after a 10h course. You get 1 hour of theory, 1 VDWS booklet, write an exam and get the VDWS windsurfer license.
Semi-private courses are ideal for
Beginner

Surfing footstraps, plaining

Advanced from waterstart, power jibe
Requirements:
More or less the same level

You have a basic level of fitness and want to learn something new together
Advantages Semi-private course:
Have fun with a friend or family member
Individual care
Constructive learning analyzing the mutual errors
3h semi-privat course € 115.-
* Including 1h rental material for free!
Content:
Theory and practice:
Knowing the wind direction
safety
Riding, close houled, beare away
Change of direction
Tack
Content advanced:
Individually depending on the level
6h semi-privat course € 228.-
* Including 1h rental material for free!
Content:
Theory and practice:
Knowing the wind direction
safety
Riding, close houled, beare away
Change of direction
Tack
stay on the same hight
Riding directions
Jibe
Content advanced:
Individually depending on the level
Prices windsurf courses Garganosurf
WINDSURF COURSES
Prices in €
1h
3h
6h
6h + VDWS
8h
10h
+2h
Trial Course
from 3 Persons
10
Groups Course adults     from 11 Years, Beginner - Intermediate
Early bird price
150*
170*
200*
250*
50
Prices on the spot
35
105
165*
185*
220*
275*
58
 Groups Course kids   8-10 Years, Beginner - Intermediate
Early bird price
130*
150*
175*
215*
43
Prices on the spot
30
90
145*
165*
195*
240*
48
Combi Groups Course & Rental
Early bird price
345
430*
Prices on the spot
385
480*
Semi Private Course 2 Persone   Beginner - Intermediate
Early bird price
115
228*
248*
75
Prices on the spot
45
130
258*
278*
86
Private Course     Beginner - Intermediate
Early bird price
195*
360*
380*
120
Prices on the spot
70
210*
400*
420*
130
Hydrofoil Course
Semi Private
Early bird price
150
275*
90
Prices on the spot
55
165
300*
100
Hydrofoil Course
Privat
Early bird price
240
480
160
Prices on the spot
90
255
500
170
VDWS license recognized worldwide
Textbook, theory, exam and license
35
20 + Course
* free 1 hour rental material included