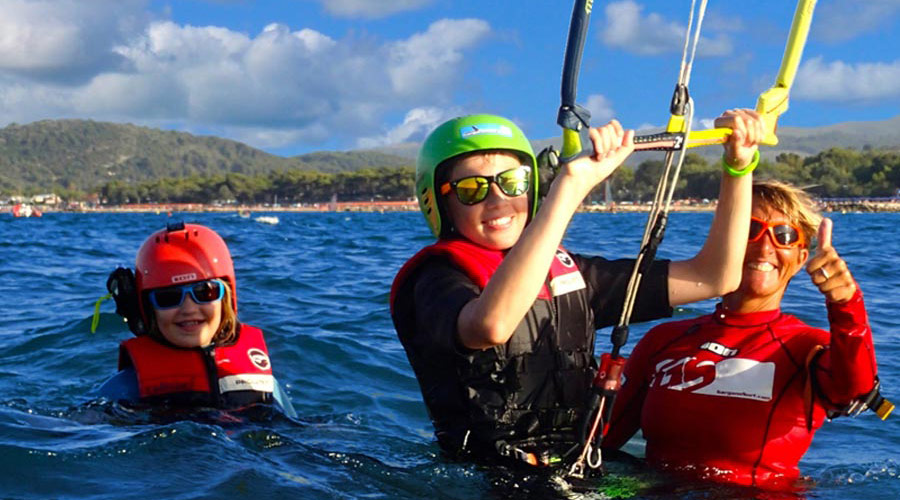 Children learn to Kitesurf
We offer group and private courses for children
Since we have a flat water standing area in the practice bay, our school is predestined for children's courses. We have specialized in children's kite courses over the past few years and we train our instructors especially for children kitesurfing training. In the children's courses we set highest priority in:
• Safety
• Playful learning
• A lot of practical practice
Our equipment in the Kids courses has the latest technology in children's harnesses, children's vests, -helmets, boards and kites.
Money back guarantee
"You only pay for the hours held!
Money back guarantee at garganosurf"
VDWS kite license
For an additional fee of € 30, - you can take the exam for the internationally recognized VDWS kite license as part of your course. This includes: 1 hour of theory, 1 VDWS textbook, exam, VDWS kite license upon passing the exam.
Differences group and private courses for children
Our groups courses are semi-private courses
Learn kitesurfing in groups of two
That means: 2 students, 1 teacher and 1 kite. So do not be afraid of huge groups. With us you will also be taught in the group courses individually 2 hours / day. If weather and wind permit, we'll teach you 2-4 hours a day. The lesson in kitesurfing takes place with a wireless helmet and from the water start we accompany you by motorboat. Our teachers are VDWS qualified. We offer professional kite training in every level. Our teachers speak englisch, italian and german.
Our private courses for children are top
Learn kitesurfing faster 1:1
There are no age and weight restrictions in the private children's classes, since we can adapt the course to the child individually. Important: the motivation and the drive must start from the child! Children learn quickly, but also lose their concentration quickly! In a private course we can adjust the lessons to this aspect and ensure great fun and rapid progress! Our teachers speak English, German and Italian.
Kids group classes are ideal for
Beginner

Intermediate level 3

Intermediate from Level 4
Requirements:
From 9 years and min. 30kg
Swimmer
Advantage group course
Learning with your peers
Group dynamics with fun
Great balance between concentration and breaks
6h Kids group courses € 330.-
Content for beginners:
Theorie and general safety
Kite control
First Bodydrags
Content for advanced:
Individually depending on the level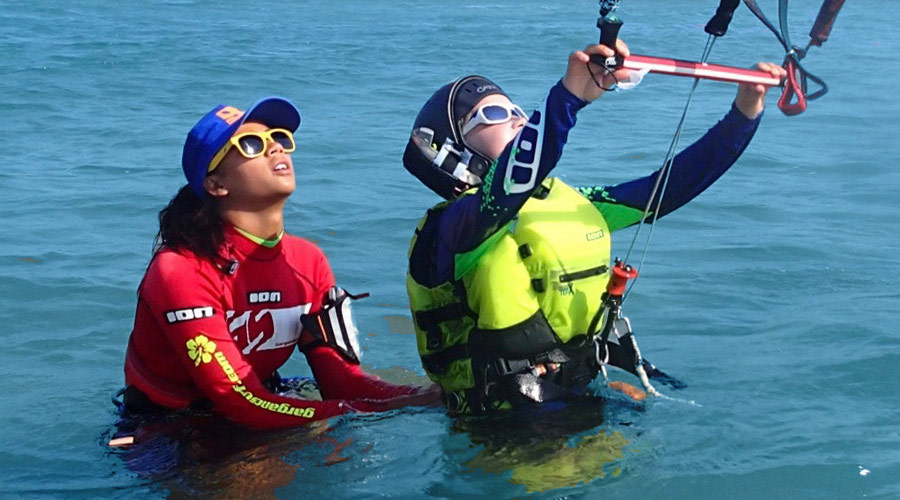 Kids privat lessons are ideal for
Beginner

Intermediate level 3

Kids under 9 years
Requirements:
Swimmer
The motivation and the drive must come from the child itself!
Private course advantage
Flexible course times
Individual care
Fast learning success
1h Kids privat course € 95.-
Content:
Individuell je nach Level.
Individually depending on the level. Do you want to improve your driving technique, learn new tricks or simply, know more about your own equipment, we look after you individually
6h Kids privat course € 510.-
Content for beginners:
Theorie and general safety
Kite control and kite relaunch
Perform different bodydrags yourself
Content for advanced:
Prices kitesurf courses Garganosurf
KITESURF / FOIL COURSES
1h
2h
4h
6h
10h
6h + VDWS
Group of 2
120
240
330
495
360
Private
95
190
360
510
800
540
Hydrofoil Private
100
200
380
Private courses with own material -10%
Licenses recognized worldwide
VDWS textbook, theory, exam + license
40
30 €+ course
VDWS exam & license
30
VDWS textbook
20
iKO license
10
In all our courses prices in € are included:
Complete kitesurf equipment, wetsuit, harness, radio helmet, rescue and escort service with motorboat.