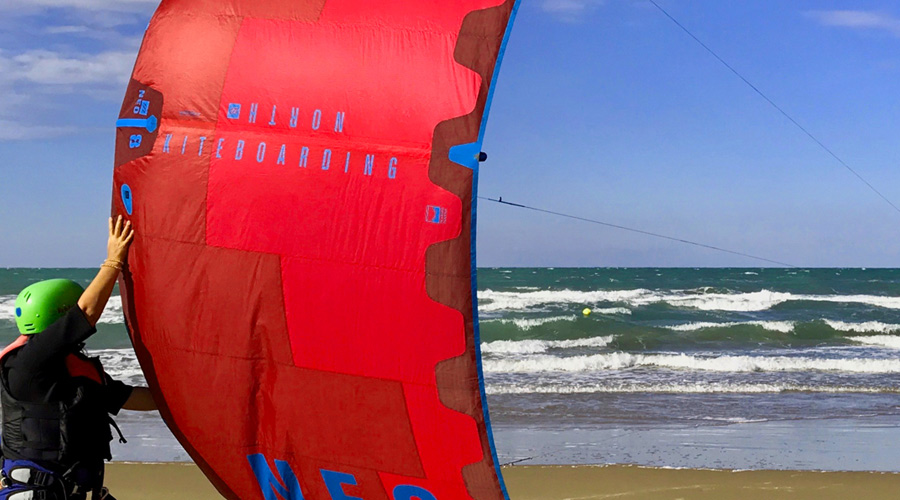 Kitesurfing courses
School of the former Worldchampion Astrid Berz
Learn kitesurfing at Garganosurf, the largest water sports school in southern Italy. We will teach you professionally to kitesurf. Sign up for kitesurfing now!
We have many courses to offer which we would like to introduce you to here.
Kitesurfing courses at a glance
Learn kitesurfing in Puglia (Italy)
Why Garganosurf clients make fast progress
Courses (from 8 years and min. 30 Kg) for all levels
Intensive training for fast progress in small groups of 2 people or private lesson
Training in shallow water in the bay at Isola La Chianca or on the sea with supervision with a motorboat
VDWS Licensed English, German and Italian speaking teachers
All courses include equipment insurance
All gear including (suit, harness, life jacket and radio helmet)
Latest and special instruction equipment from Duotone & Gin
International licenses (VDWS)
We provide the testing and certification for the various levels for your kitesurfing license
Money back guarantee
"You only pay for the hours held!
Money back guarantee at garganosurf"
Prices kitesurf courses Garganosurf
KITESURF / FOIL COURSES
1h
2h
4h
6h
10h
6h + VDWS
Group of 2
120
240
330
495
360
Private
95
190
360
510
800
540
Hydrofoil Private
100
200
380
Private courses with own material -10%
Licenses recognized worldwide
VDWS textbook, theory, exam + license
40
30 €+ course
VDWS exam & license
30
VDWS textbook
20
iKO license
10
In all our courses prices in € are included:
Complete kitesurf equipment, wetsuit, harness, radio helmet, rescue and escort service with motorboat.
"3 years ago my daughter Ana and I decided to learn to kite. To me it was always clear that this sport requires a professional coaching. Starting from the set-up of the best equipment available, to the first kite steering lessons in the shallow water in front of the La Chianca Island. And later the actual kitesurfing out on the ocean escorted by motorboat. We always appreciated the right timing of the assistance and instructions from the coach right behind us or by radio. If you're planning to learn to kite, with Garganosurf you're in good hands. Cheers Andi."
Thanks for your great lessons. ☺
Every course – every hour – private or grouplesson was super fun. You always have amazing instructors who love to teach and have fun with their students. From the very first moment I felt well looked after. I would recommend everyone – adult or child – boy or girl to come to you. Your courses are excellent and safe, with the newest material and an amazing educational competence.
open from April 1th to October 18th 2023
Garganosurf, the largest water sports center in southern Italy.
do you have questions?
With our team, we are at your side with action and advice, when it comes to the Gargano or water sports.