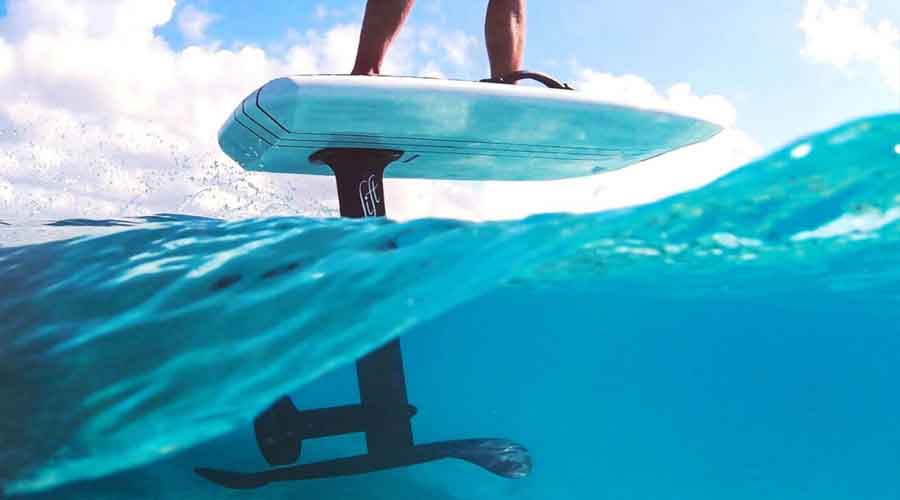 Learn e-foiling in a private course
With a private course at Garganosurf, you choose the most effective way to learn to e-foil. In the private courses we can train at your own pace, we can respond to your personal needs. All exercises are tailored to you. The instructor is only there for you! This way we train you efficiently and professionally. Flexible course times save you valuable holiday time and the individual support will get you to your goal faster. Beginner training or intensive coaching, 1:1 we can discuss the program in advance and define a realistic learning goal. This makes learning fun.
Why learn to e-foil
Are you looking for a new kick and want to get to know this new sport at your own pace? Then the eFoiling-private course is the perfect choice for you. We'll go over the theory and safety together, and then dive into the water to learn the basics.
Are you an e-Foil natural talent? Who knows, maybe you'll be able to fly your first few feet above the water in your first eFoil course!
Advantage private course
Flexible course times
Individual care
Fast learning success
Money back guarantee
"You only pay for the hours held!
Money back guarantee at garganosurf"
Private courses are ideal for
Beginners

Kiter, Winger, Windsurfer, SUPer

No Hydrofoil experience
Requirement:
from approx. 15 years and min. 40kg
You have a certain basic fitness and you can swim. So no more excuses!
1h private course € 180.-
Content:
Theory and practice:

Safety, right of way rules
handling
Surfing on the belly
Surf on your knees
Surfing standing up
Foile standing up
2h private course € 360.-
Content:
Theory and practice:

Safety, right of way rules
handling
Surfing on the belly
Surf on your knees
Surfing while standing
Foil while standing
Foil back and force