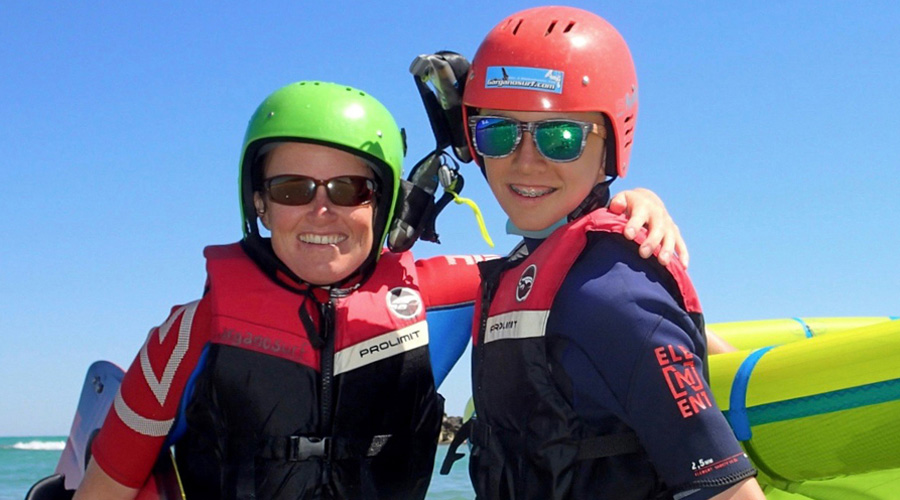 Learn kitesurfing in groups of 2
Our group courses are semi private courses:
Which means: 2 students, 1 teacher and 1 kite. So do not be afraid of huge groups. With us you will also be taught in group classes individually 2 hours/day.
If weather and wind permit, we'll teach you 2-4 hours a day. The lessons in kitesurfing take place with a wireless helmet and from the Level of waterstart we accompany you by motorboat. Our teachers are VDWS qualified. We offer professional kite training for every level including license. Our teachers speak Englisch, Italian, German and French.
Our experience shows that the exclusive, personal care, guarantees an optimum of kitesurfing learning success in no time. Due to the accelerated learning success, the costs of kitesurfing can be significantly reduced, even with individual care. This in turn generates a great deal of motivation and a huge kite fun. (Attention: can cause addiction)
Money back guarantee
"You only pay for the hours held!
Money back guarantee at garganosurf"
VDWS kite license
For an additional fee of € 30, - you can take the exam for the internationally recognized VDWS kite license as part of your course. This includes: 1 hour of theory, 1 VDWS textbook, exam, VDWS kite license upon passing the exam.
Group courses are ideal for
Beginner

Intermediate Level 3

Advanced level 4
Requirements:
From 9 years
You have some basic fitness and you can swim. So no excuses!
Advantage:
Great balance between concentration and relaxation = quick progress
You always have someone's help
Constructive learning analysing mutual mistakes
Group dynamics with fun
6h Course € 330.-
3 x 2h divided into 3 days
Content for beginners:
Theory and general safety
Kite control and kite relaunch
Performing various bodydrags yourself
Theory waterstart and first try
Content for advanced:
Individually depending on the level
Prices kitesurf courses Garganosurf
KITESURF / FOIL COURSES
1h
2h
4h
6h
10h
6h + VDWS
Group of 2
120
240
330
495
360
Private
95
190
360
510
800
540
Hydrofoil Private
100
200
380
Private courses with own material -10%
Licenses recognized worldwide
VDWS textbook, theory, exam + license
40
30 €+ course
VDWS exam & license
30
VDWS textbook
20
iKO license
10
In all our courses prices in € are included:
Complete kitesurf equipment, wetsuit, harness, radio helmet, rescue and escort service with motorboat.