Hydrofoil courses kitesurf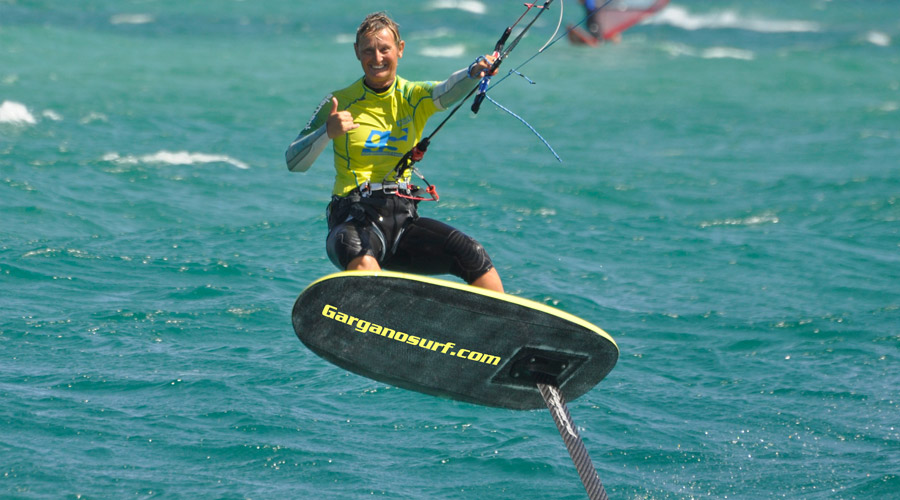 Private course hydrofoiling
The Hydrofoil Kitesurfing Course starts with a short introduction on the beach. We provide you with the most important tips for using the Hydrofoil Board to ensure the safety during the course. After the Bodydrag away from the shore, you can make the first start attempts with the Hydrofoil. The first attempts will remind you of your time as a kitesurf beginner. The new weight transfer and balance at the water start must be automated again.
By the constant connection to the teacher over radio you will experience fast successes , which will inspire you soon. By the end of the course, you've probably already covered the first meters floating above the water.
Requirements: You're safe in dealing with kite and board, VDWS Level 5. (Because the re-launch of the kite at little wind requires a little experience, as well as the entire handling of the Kite in the water, in ultra-light wind conditions)
Money back guarantee
"You only pay for the hours held!
Money back guarantee at garganosurf"
Hydrofoil-courses are ideal for
Beginners

Intermediate from level 3

Advanced from level 5
Requirement:
You are safe in dealing with kite and board
At least VDWS Level 5
Maybe surfboard experience
Hydrofoil course 2 h € 190.-
1 x 2 h divided into 1 day
2 x 1 h divided into 2 days
Content:
Basics of Hydrofoil
Correct bodydrags with the hydrofoil
First water starts
First meters driven
Hydrofoil course 4 h € 360.-
2 x 2 h divided into 2 days
4 x 1 h divided into 4 days
Content: p>

Basics of hydrofoiling
Correct bodydrags with the hydrofoil
First water starts
First meters driven
Go upwind on the foil
Going down wind on the foil
Prices kitesurf courses Garganosurf
COURSES KITESURF
1h
2h
4h
6h
10h
6h + VDWS
Trial Course
Group
30
Private
50
Group of 2
Early bird prices
280
435
310
Prices on the spot
105
200
300
470
330
Private course
Early bird prices
90
480
750
510
Prices on the spot
95
190
360
510
800
540
Private courses with your own material
Early bird prices
75
150
Prices on the spot
80
160
305
Hydrofoil course
Early bird prices
190
360
Prices on the spot
100
200
380
Licenses recognized worldwide
VDWS textbook, theory, exam + license
40
30 + course
VDWS exam & license
30
VDWS textbook
20